ONLINE REHABILITATION
2020-05-05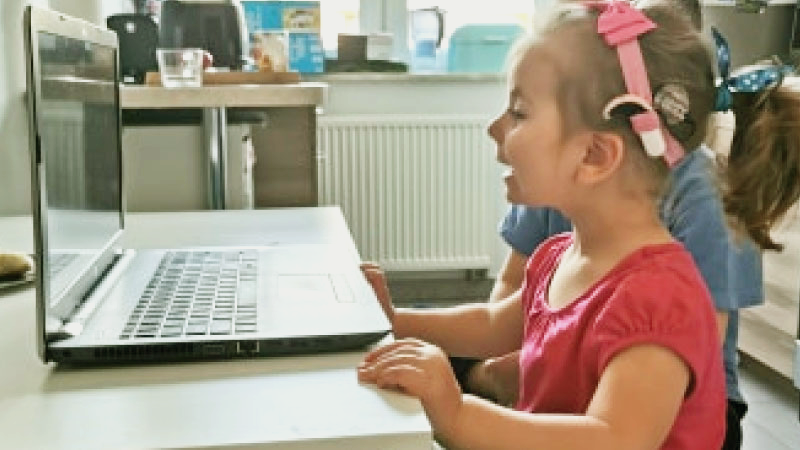 We have come to live in times and conditions that probably none of us dreamt of, planned for, and were not prepared for. Everyone suffers in their own way. For many of us, this situation has adverse effects. What about our children? Who "lost" a lot of valuable early development support, speech therapy and other rehabilitation activities at that time? What about children who are freshly implanted and need immediate specialist support? The isolation time does not work in their favour. Unfortunately, we simply don't have any real influence on certain things and we have to take matters into our own hands by choosing "the lesser of two evils". What is it?
Online education is a remote activity with children thanks to universal access to media and electronic equipment. This is contrary to the principles of not activating children in all technologies that have a negative impact on their development. On the one hand, all specialists alert about the negative influence of telephones and computers on the development of a young child, and on the other hand, it is nowadays the only source of available rehabilitation that we can use. Of course, by limiting access to this type of equipment to the required minimum, we can gain benefits for our patients. Thanks to this, our child will not forget the long-lost teacher, and our speech therapist can give valuable tips to parents to work with their child at home. WE MUST NOT FORGET THE AUDITORY EDUCATION referred to in previous articles. It is now crucial to the success of our child. By combining both of these things, we can make up for that time when the child does not have stationary rehabilitation. It is known that every child is different, but let us not assume in advance that computer classes are not for him/her. You have to try. It may not work the first time, but with every subsequent attempt it may be better. And if not the child, the parent should take advantage of as many of these "meetings" as possible and try to implement the recommended procedure in working with the child at home. You can also look at it from a different angle. In the future, we will not avoid our child's contact with media. Digitization times are present and future times. Children with hearing loss may have difficulty understanding speech through the computer, TV or telephone. Now we have the opportunity to practice this and see how our child's hearing loss is handled. Such training alone can be beneficial for him/her. Focusing on and understanding the content will require some work, so it is now worthwhile to pay attention to it as well.
So let us not waste time in the era of a pandemic waiting for a safe return to our children's rehabilitation and speech therapy activities, but within the limits of common sense let us try to provide the only available form of such online activities.