Exchanging an audio processor – a comparison of MED-EL Sonnet 2 vs Rondo 3
2021-07-12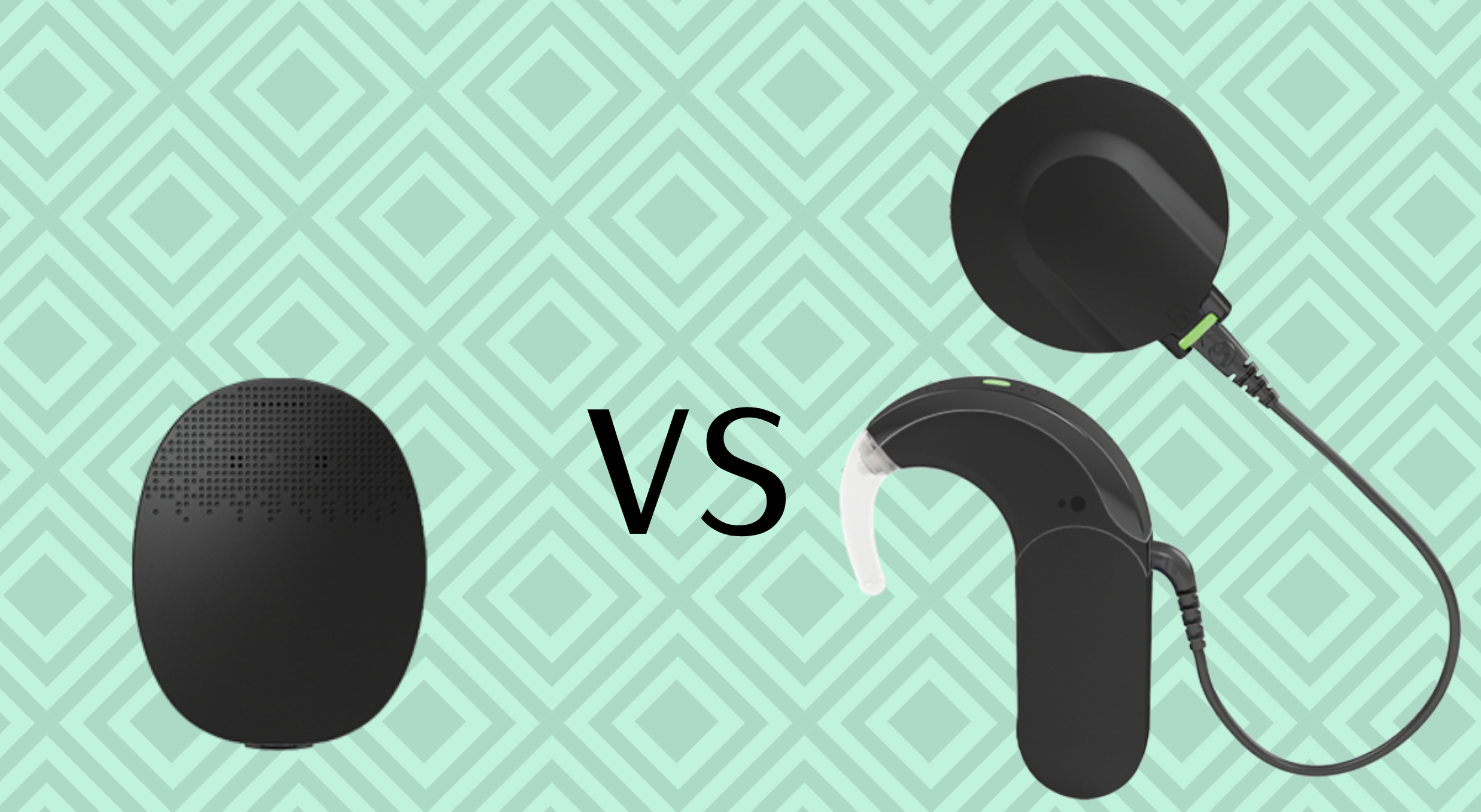 Do you need to exchange your MED-EL audio processor for a new one soon and you don't know which one to choose?
Read our comparison of Sonnet 2 and Rondo 3 processors.
       Nine years ago, before my daughter was born, I had no idea what a cochlear implant is. When hypoacusis hit my child I started getting more and more knowledge about the methods of 'repairing hearing'. What I remember is that, at that time, the available processors were MED-EL Opus 2 or Rondo 1. At first I found it difficult to come to terms with the fact that my child does not hear and I wanted to 'fix' her so I was dreaming of Hela getting a processor which is as invisible as it can be – an one-element one which could be hidden under her hair – and I thought about buying the Rondo processor. In Poland children are advised against wearing all-in-one processors and there is one opinion which makes the rounds which says that it's easier to lose or damage these processors and that if a child is using them his/her rehabilitation process will be less effective. Taking these arguments into account we decided to buy a behind-ear Opus 2 processor.                
It's been 8 years from the first surgery, Hela speaks and develops nicely and the whole family accepted her implants and supraaural processors. I am extremely thankful that we live at the time of possibility to implant cochlear implants.                
Finally, the time was ripe and we had to exchange audio processors. In Poland, theoretically, it is possible to exchange processors for free every 5 years, but in reality you can do this after 8-10 years. Technology has advanced. Processors are restyled which makes hearing and the comfort of life better.                
In March 2021 we received a call from which we got to know that we can exchange the processors and that we have time until the next visit to decide which processor we would like to choose – MED-EL Rondo 3 or Sonnet 2. What I must admit is that this choice was really difficult and the thing that was not helpful at all was time pressure – we had only a few days to make this decision and its consequences were to be seen during the next 10 years!                
We chose MED-EL Rondo 3! We have used them already for two months.                
What you can find below is my opinion and experience and a short comparison of the two devices – Sonnet 2 vs. Rondo 3:
APPEARANCE
It is one of the most important aspects that I was governed by. In my opinion the appearance of an one-element processor is much more attractive. This processor does not look like a typical 'hearing aid' but like something ultramodern. It looks like a cool gadget or a cutting-edge hairslide. Now my daughter is decorating processors with colorful stickers, but soon she will become a teenager and I don't know how she will treat her processors. If need be, Rondo can be hidden and if not the processor can be kept in view.  
RONDO 3 = ALL-IN-ONE
An all-in-one processor means that a device consists of one element. With this processor you no longer have a problem with twisted and easily-breaking cables or coils. Sometimes it came up that the child grabbed the processor in a way which destroyed a delicate cable. In all-in-one processors the cone will not break which is often the case in Sonnet series devices – if you used this processor then you know how delicate the cone mount is. Many users complained also that in behind-ear Sonnet processors the battery cover was often getting used up which made it difficult to turn on the device. In Rondo 3 everything is closed in one cover which makes it impossible to experience such problems as the ones which concern behind-ear processors. On the other hand, if any of the Rondo 3 components is damaged – we cannot exchange a single element – we have to have the whole device serviced…
FREE EAR
When using Rondo 3 the ear is free and not weighted down. When Hela put Rondo 3 on for the first time she said that she couldn't even feel it and it seemed to her that she hears without the processor – the first impression was amazing and that was what we wanted to achieve, we wanted the processor to be unnoticed.
THE POWER SUPPLY
The Rondo 3 processor does not use disposable batteries. It is equipped with a built-in battery which works up to 16 hours without any problem and, if it was fully charged, it never 'died' during the day. Nevertheless, there were a couple of situations in which the processor was not fully charged in the morning – and we do not know the reason for that.
An exceptional advantage of this processor is that we don't bear everyday costs of using it. On the other hand, there is a disadvantage (which we will probably notice more in the future) which is a natural wear of the battery. For now we don't know whether it's possible to exchange the battery and what is the cost of this.
Rondo 3 is charged inductively (wirelessly) with the use of a special, provided by the producer, charger. If you use two processors of this type you will receive two chargers, two cables and two plugs – that's a lot. An advantage is that it is possible to charge the processor with the use of wireless chargers/powerbanks that are used for phones (in QI standard).
HEADPHONES
When wearing the Rondo 3 processor it is hard to put standard headphones on, because the processor is placed in a place where the coil is placed which is much higher than our ears.
A HELMET
It is a lot easier to find a helmet which suits a supraaural processor than an one-element processor. We managed to find a helmet which suits our daughter. The problem appears in places such as e.g. a rope park where helmets are provided by the service. Unfortunately, our Rondo 3 unpins itself and in order to play in the rope park Hela has to use behind-ear processors.
T- COIL MODE
In order to receive signal from hearing loop you have to connect your processor to a special adaptor (the producer provides it in the package). Using the hearing loop is therefore a matter of planning – when we needed the adaptor we never had it with us. This is a huge disadvantage for people who use this function on a regular basis.
PROTECTIONS
It's obligatory to treat Rondo 3 with the use of a special hairclip or a clip that can be attached to clothes. With a supraaural processor it is easier, because if coil unclips itself from the head the processor usually holds on the ear. In my opinion, however, all processors should be treated and insured. My daughter has small ears and the supraaural processor was not holding on to them as well and it fell several times a day. My impression is that the Rondo 3 holds on better and it does not unpin so many times. Original hooks for Rondo 3 are quite expensive and their lines often rip (within 2 months we had both lines provided by the producer ripped). Fortunately there are less expensive and more resistant SmartEar substitutes.
DRYING AND CARE
According to the producer, there is no need to disassemble and dry the Rondo 3 processor, as is was the case with the Sonnet or Opus series devices.
TECHNOLOGY
Rondo 3 and Sonnet 2 are the latest MED-EL processors. The level of sound processing advancement is similar in both of them. Both are equipped with two microphones and are resistant to being dripped. The Sonnet 2 has the edge over the Rondo 3 because it enables the user to use the latest wireless system of sound transmission i.e. Audiostream. Wireless sound transmission is Rondo 3 is possible thanks to the use of the additional device called Audiolink.
We chose the Rondo processor, because we have our supraaural processors in reserve so if need be our daughter can use one type of the processor or another and that is a really ideal combination. It would be perfect if people could get two devices straight after the surgery and had a chance to use them according to their needs, situations or preferences.
Choosing the audio processor is a difficult and binding decision which effects are seen during a few following years so it should be well analyzed. However, the moment in which you can exchange the device is a moment of great joy and, regardless of which processor you choose, it will surely be beneficial for the user.